Safe rest with a pinch of tradition.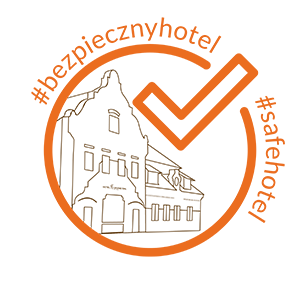 We are aware of the threats and we remember about sanitary safety. We strive to make all our facilities safe for both guests and our employees. Check what we do for the sake of common good.
SAFETY PROCEDURES

We have implemented the obligation for our employees to use masks or face shields and protective gloves. Every day we also measure the body temperature of all employees and suppliers. Points in which we serve our guests have been secured with special separating screens.

We have implemented special sanitary procedures, including ozonation of hotel rooms after each check-out and daily disinfection of the restaurant room and all common spaces. All equipment and surfaces often touched by guests and employees are disinfected at least every 2 hours, while payment terminals, reception desks, tables and restaurant menu cards - after each guest.

Protective masks are required when entering and staying in all public areas. Protective masks can also be bought at the reception.
In the hotel premises, in marked places at the entrance and on the premises, we placed dispensers with liquid hand disinfectant.

For the sake of common security, we encourage our guests to make cashless payments, and invoices for stays are sent in electronic form.
RULES OF STAY AT THE HOTEL

Each guest, like all our employees, undergoes a mandatory security check (temperature measurement and hand disinfection) before entering the building, and only registered persons can stay in the hotel.

There can only be one person at the reception desk at the same time. For your convenience, we have placed information pictograms to help you maintain safe social distancing.

We have simplified the registration procedure – all you need for a check-in is signature on the registration card. At check-out, please put the room entrance card in the container on the reception desk.

Please use the elevator only with the people you stay in the room.

On request, we will clean the room during your absence – when leaving, please inform the staff through a special hanger available in the room. Please inform the reception if you want the staff to change towels, empty the trash can or refill toiletries.

Please do not use blow dryers in the rooms.

Breakfasts are served in the restaurant room, at one of the tables arrange with respect to the requirement of maintaining social distnace, which must also be observed by our waiters and other employees.

To better prepare for functioning in the new reality, we have appointed a plenipotentiary for sanitary safety. Please send your comments and questions to the address: bezpieczna@kopalnia.pl